Laser Hair Removal
---
NO MORE WAXING OR SHAVING.
Just think, no more shaving rash, no more painful waxing, no ingrown hairs – just ready-for-anything luxuriously smooth hair-free skin all year round.
Fast, effective and affordable, our medical-grade lasers are safe enough to be used on any part of the body (including the face) and will target different skin types – from light to dark – while ensuring maximum results.
You could finally reduce hair that grows in places which should be hair free. And you will never have to worry about shaving your underarms, bikini line or legs in a mad rush to wear that summer dress or swimming costume at a moment's notice.
Cheaper than long-term waxing
Relatively painless
Reduce or eliminate unwanted hair
All of our lasers feature a cooling system that help calm, soothe and protect the skin.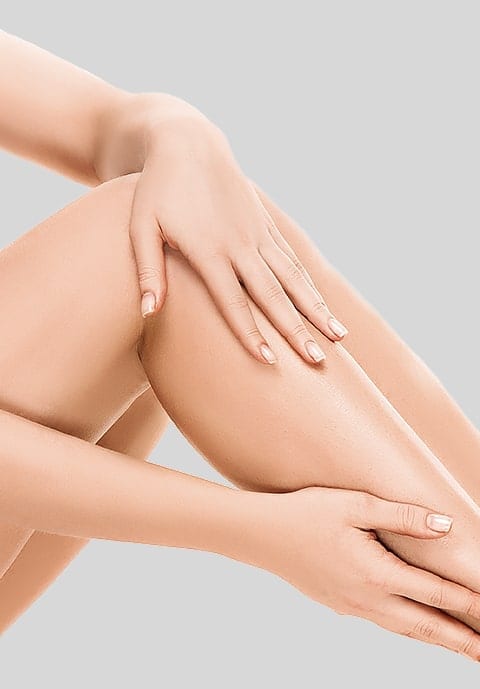 How it works
Our medical-grade lasers selectively target hair follicles. The laser energy is transformed into heat, which destroys the hair follicles, leaving the surrounding skin unaffected. The skin is further protected during treatment by a cooling device or medical grade cooling gels which cool the upper layers of skin and increase patient comfort.
Treating The Skin
Our fully-trained laser technicians can treat any skin tone from dark to fair using medical-grade Candela GentleYag Pro® and GentleMax Pro® lasers.
Removing The Hair
Treatments can be tailored to reduce hair from all areas of the face and body and the sessions are quick and relatively painless.
Repeat The Process
You will need several treatments for great results. Although the laser is effective, hair grows in cycles, and so only hair follicles that are growing at the time can be treated.
After Care
It is not unusual to have some mild heat or redness and itchiness in the areas that have been treated with laser.
E+ Post Laser and IPL Treatment Pack contains a calming gel, exfoliant and a photo protector to ensure your skin remains calm, smooth and nourished after laser treatment. Simply apply the calming gel liberally for 3-4 days after each treatment, the exfoliant 5 days post treatment and the photoprotection for the duration of your hair removal treatment schedule.
What results can I expect?
Studies have shown that laser hair removal will permanently reduce hair by 80% after 8-12 treatments. A series of treatment sessions is required for silky smooth results because hair grows in cycles, and so the lasers can only treat the hair follicles that are growing at the time.
It is also important to note that results can vary depending on the areas being treated and can be influenced by sex, age, colour of the hair and hormones.
Book Your Appointment or Consultation
The Best Awaits You
The team at Architects of Skin will guide you every step of the way, with helpful advice, quality care and well-qualified cosmetic clinicians. Schedule your visit with us today to get started!
Call 1300 068 357 (within Australia)